Quick start¶
Product Description¶
A running robot for beginners as well as experienced developers: With the "Hexapod Robobug" complete set, consisting of electronics, mechanics and digital high-performance servos, you can build your own Hexapod running robot and enter the exciting world of robotics! The "Hexapod Robobug" complete set is the ideal basis for entering the fields of electronics, mechanics and programming: it enables a large number of extensions by using additional user boards such as Arduino, Raspberry Pi or NodeMCU and offers space for many additional components. The robot is designed in such a way that it can be controlled without programming using the controller supplied, similar to an RC model. Thanks to its expandability and flexibility, the robot is perfect for hobby, research, schools, education and training and encourages independent development and expansion.
Click here to get to the product page.
Info
Not included in the delivery: The 3D print data of the Pan & Tilt unit and the required components can be found on the product's website. The product also requires a rechargeable battery and a suitable charger.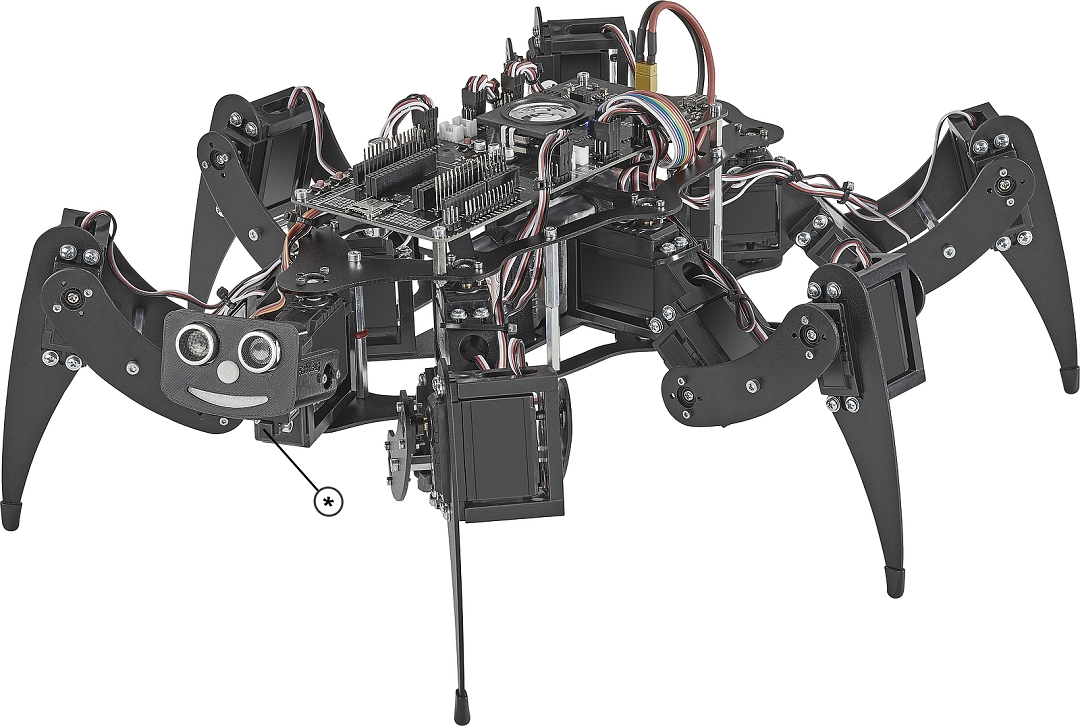 Figure 1
Features¶
Simple construction
Easy programming with Arduino™ (Arduino™ library available)
Firmware based on Arduino™
Onboard locomotion controller ATmega2560 for leg control (Arduino™ MEGA compatible)
18x high performance digital servos with metal gear, double ball bearings
High-quality aluminium and plastic parts
Legs with double ball bearings
Control via gamepad (included in delivery) and user board commands
Easily accessible connections for your own expansions
Serial data connection between user board and locomotion controller
Compatible with the following additional boards: Arduino, NodeMCU, SBC (e.g., Raspberry Pi)
USB programming interface for Locomotion controller
Loudspeaker with amplifier for sound output
MicroSD card reader
Infrared receiver
Freely usable buttons
Power management
I²C Seeed Grove connector for extensions
Automatic level adjustment for 5 V and 3.3 V user boards
Versatile expandability thanks to open architecture and open source software
Complete kit to set up the robot (batteries, rechargeable batteries and charger not included)